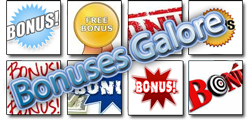 There are some amazing deals around the online gaming world at the moment – particularly in terms of the introductory bonuses some sites have on offer.
This generosity is driven by the competitiveness of the online gaming industry and is great news for us consumers as the welcome bonuses, player loyalty bonuses and the refer a friend type of bonuses just seem to get bigger and bigger.
With some sites, you can triple your initial stake straight away and that's great, of course. The same site even gives you two more bites at the cherry doubling up two more deposits as you play on and hopefully win a few games. Who knows, you may even land a life-changing progressive jackpot with one of these sites – and most have some pretty big jackpots and other free draws etc.
So on the one hand; it does make an inordinate amount of sense to register with as many of these sites as you can and to play through, carefully, the bonuses on offer in an attempt to land a decent win. If you play this kind of strategy, the odds are stacked well in your favour – albeit temporarily.
So what's the problem? Well the danger lies in the fact that you will, inevitably, enjoy a few big wins along the way at whatever online game you choose (unless you're highly unlucky that is). And if you're a weak-willed type when it comes to gambling, you can end up continually chasing your losses and perhaps even losing more than you can comfortably afford to. So unless you're quite a self-disciplined type of player who can play through the intro bonuses than walk away – or only continue playing for small amounts that you can comfortably afford to lose – don't get started in the first place.